Description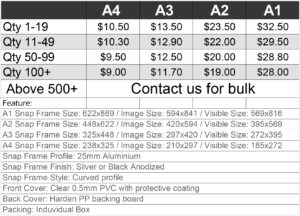 n
nclick picture to view the bulk price
n
nVision clip posters or snap frames, as they're also known, are a cheap and effective way to display any advertising poster. These poster frames snap open on concealed hinges allowing you to change your poster in just seconds. This simple mechanism, combined with their low cost, has made them the most popular form of retail poster display on the market today.
n
nAll our clip frame models come in an array of standard sizes, such as A1, A2, A3 and A4 frames, but we also stock some larger and unusual sizes. We are able to manufacture custom clip frames for large order and if you would like to have some branding on your poster displays, we can screen print your company logo on the frame.
n
nVision clip frames, or snapper frames, are our most popular model due to the fact that they are so cheap yet a great quality poster frame. The extruded aluminium profile is thin and stylish and allows use to sell this model of snap frame at wholesale prices. If you are after a heavy duty retail poster frame with the convenience of snap open frame, you might be interested in our range, which is available in both silver and black frames.
n
nAnother new snap frame sign holder in our range is window snap frame model. This double sided poster frame adheres to the glass of shop windows, allowing the user to display posters both inside, to people shopping in his or her store and also to those people passing by the outside of the window. They can be used really effectively in conjunction with an eye catching window display.
n
nWe also have a wide range of other products for displaying your advertising posters. Our range of Poster Stands also uses easy-change snap frames.